Introducing Assisted Cooking
Preparing a nutritious meal, something we all need to live healthy lives, is arguably the most complex of the daily tasks a person needs to perform to live independently. The meal preparation process often involves a complicated sequence of steps and interactions that must be performed in a particular order.
Now, imagine you live with a cognitive impairment such as a developmental disability, brain injury or the onset of dementia. You are still physically capable of performing all tasks in preparing a meal but you lack the cognitive skill needed to correctly organize and execute all of the steps involved, with the correct ingredients and in the correct order. There is a gap between what you are physically capable of doing and what you are able to organize and plan; a gap that may result in increasing dependence on external supports, poorer nutrition or both. Assisted Cooking bridges that gap, minimizing the amount of support needed for you to either develop greater independence or maintain independence for as long as possible, depending on your particular situation.
Assisted Cooking: A Resource for Caregivers
Assisted Cooking is a web-based application with two interfaces — one for the caregiver and one for the end user doing the cooking.
The caregiver interface has many easy-to-use features that allows them to tailor the application to the individual(s) they are supporting.
Core features allow you to:
Easily create and edit step-by-step recipes tailored to meet the needs of the person(s) being supported;
Upload and use your own images so they are familiar and recognizable to the end user;
Share your recipes with other users or copy recipes that other users have shared;
Schedule a weekly menu of favourite recipes;
Generate a grocery list from the recipes in the weekly menu.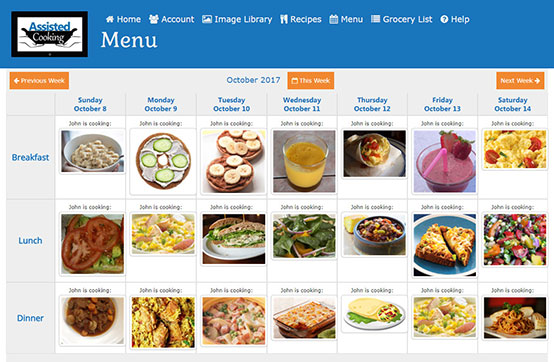 Assisted Cooking: A Step-by-Step Cooking Assistant
Assisted Cooking: A Step-by-Step Cooking Assistant
Assisted Cooking delivers easy-to-use virtual support in meal preparation to individuals with cognitive impairments. When the end user launches the application on a tablet in their kitchen, an avatar greets them by name and tells them what meal they will be cooking (based on the menu configured by the caregiver). They are then walked through the recipe step-by-step with the assistance of the talking avatar, the words on the screen, and recognizable images of their own kitchen environment. Navigation through the steps takes place by touching the "Next" button on the screen.
Advanced features include a built in timer function that eliminates the need for the end user to know how to set a timer themselves and an interactive component that allows different "next steps" based on user feedback to simple questions such as "Is the water boiling?"
Assisted Cooking not only eases the demand on caregivers to be actively involved in preparing each meal but it also fosters a sense of pride and accomplishment for the end user and helps them to attain or maintain greater independence.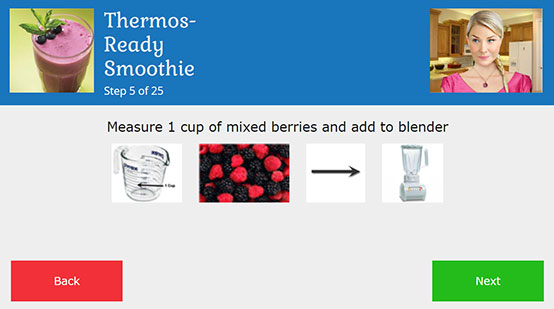 Background Info
Assisted Cooking is a new venture being launched through TechnicalitiesPlus.
TechnicalitiesPlus is an innovative company based in Haliburton, Ontario that is committed to creating IT solutions that make a difference in people's lives.
For more information about Assisted Cooking, please contact:
Donna Enright, CEO
(705) 457-9977
donna@technicalities.ca